Sunday Morning
We continue to produce a 30-35 minute worship service for each weekend. Live Stream worship available on Sunday mornings at 10:00am.
---
May
Worship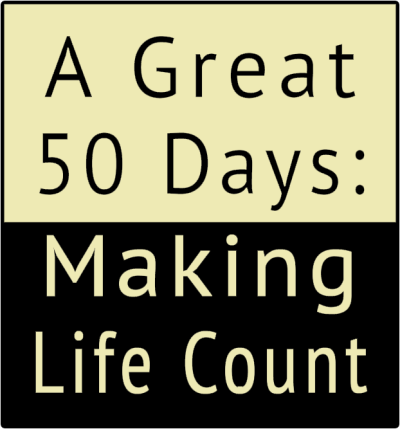 Springtime is filled with celebration that encourage
us to think about the bigger things in life. Whether
we are making the completion of another school year,
honoring parents, planting gardens, or opening the
cabin, this is a time to reflect on what matters most.
In the church calendar, this season is officially named,
"The Great Fifty Days." Join us as we explore the
milestones of life and question what it takes to make
our days matter so that we live a life that counts
beyond a mere 50 days!

---

Sunday, May 1, 2022 - 10:00 am
Celebration Sunday

Scripture: John 21:1-19
Preacher: Pastor Stina Koppes
It's time to celebrate all of the great things
happening at Cross Winds! See you on
Sunday, May 1st for a spirit-filled worship
service that will honor the work of this
spring's capital campaign. Stay afterwards for
a free catered luncheon provided by Famous Dave's.
Live music featuring Elroy Balgaard and Sons.

Sunday School 9:15-9:45 am.

Children's Worship will follow Children's
time during the 10:00 am service.
---
Sunday, May 8, 2022 - 10:00 am
"When Life Overflows"
Scripture: Acts 9:36-43
Preacher: Pastor Stina Koppes
In our search for what matters most, the Bible
lifts up stories of people who made an impact.
Sometimes these are famous folks like Abraham
or Mary. Yet the Bible is also filled with stories
of ordinary people who lived life extraordinarily
well. Today we will meet Dorcas, who in Acts 9
is described as a women whose, "life overflowed
with good works and compassionate acts on behalf
of those in need" as we celebrate those people
in our lives who have shown us that same kind
of overflowing life.


Sunday School 9:15-9:45 am
Children's Worship will follow Children's
time during the 10:00 am service.
---
Sunday May 15, 2022 - 10:00 am
Confirmation Sunday

Scripture: Matthew 4:18-22

Today we celebrate our 8th grade confirmation students
who will publicly respond to Jesus' call to live as a
disciple and be confirmed into the Christian community
of faith and the United Methodist church. Join us in
supporting and celebrating our students as they are
taking ownership of their faith by responding to God's
grace and the great commission of of love. We will
also take a special offering for the MN Annual conference
Love Offering. To learn more about the offering:
https://www.minnesotaumc.org/loveoffering or watch
https://vimeo.com/691153376
---
Sunday, May 22nd, 2022 - 10:00 am
Music Appreciation Sunday & Sunday School Celebration

Scripture: Psalm 67
Preacher: Pastor Stina Koppes


Join in celebration as we give thanks for the
ministries of our Sunday School and music teams.
We also are pleased to introduce our new seminary
intern, Christy Sturlaugson and her family to
Cross Winds!
---
Sunday, May 29, 2022 - 10:00 am
"A Great Cloud of Witnesses"


Scripture: Hebrew 11:1-2, 39-40, 12:1-2
Preacher: Pastor Stina Koppes
There's an old saying, "When the going gets tough, the
tough get going." When life is hard, we need people to
inspire and cheer us on to persevere. The Bible reminds
us that we have those heroes for inspiration and
encouragement known as "The Great Cloud of Witnesses."
Today we celebrate those witnesses and reflect on how
our lives can show honor through perseverance.
---
---
COVID protocols:



Sunday Morning Worship
10:00 am Sunday in-person worship will be available at Cross Winds.
COVID Protocol Update-Masks Optional Beginning March 6th
As COVID rates continue to decline and the Osseo School district
policies have changed, Cross Winds UMC will observe a "masks optional"
policy for indoor activities beginning March 6th. Masks will continue to
be available at the welcome desk for those who want to wear them.


Coffee hour will be available after worship
Live Stream worship available on Sunday mornings
Nursery is open
Children & Youth Programs
9:15-9:45 am Sunday School
Wednesday Youth programs
All other programming has resumed
---