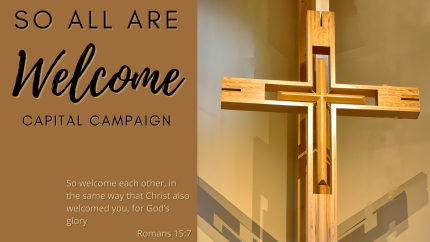 Capital Campaign Update - May 2022
We are proud to announce that as of May 2nd, we have received 96 pledges for over $570,000 towards our Capital Campaign goal. Thank you church!
As we continue to celebrate this amazing generosity, we are eager to make these capital campaign visions a reality. Since we know that your gifts have been given to glorify God and do all the good they can, we would like to share with you the preliminary plans to make these projects happen.
What's Next?
Now that the money has been pledged we need to begin the work to build out detailed plans and implement the enhancement and renovation projects that have been identified.
A task force has been created to put together a plan to:
Sequence the work – what can be done this summer and the balance of 2022

Create a project team reporting to the Trustees that will lead the implementation effort.

The task force will identify the group of people to serve on the project team and will make a recommendation to the CW Church Conference on May 17th to establish the team and its members.

The project team will be responsible for refining requirements for each project, create detailed project plans, apply for permits, get bids from contractors/companies to do the work and implement the projects.

As a congregation, you will have opportunities along the way to provide input to the team.
As we transition from the capital campaign committee to the project team we ask you to prayerfully think about how you would like to be involved in the building out of these improvements or in dreaming about how we can expand our ministry. Contact the Trustees Chair or Pastor Stina if you are interested in helping.
Once again, thank you for your faith, hope, and love. Your financial generosity has inspired us to keep working hard to ensure that Cross Winds is a community where all are welcomed for the glory of God. I look forward to sharing many exciting project updates and new ministry opportunities possible because of these projects with you in the years to come.
Blessings, Pastor Stina
---
For us to reach out as welcoming community, we recognize that caring for our facility matters for our future ministry. As the foundation for a capital campaign planned for this spring, we've identified several projects within the Cross Winds building that either require updating or are ready for renovation.
Click on the images below to see what the finished project may look like.
Welcome All to the Table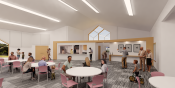 Welcome All to Worship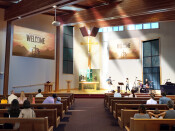 Welcome All to Join Us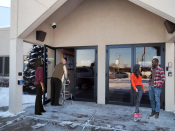 Click on the videos below to hear from Cross Winds members about the project.
Introduction
Welcome All to the Table
Hospitality Team Speaks
Welcome All to Worship
Welcome All to Join Us
Download pdf today to discover project details