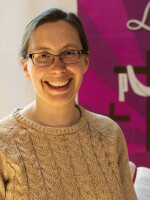 Christina (Stina) Koppes
Pastor
There is a prayer in the United Methodist Hymnal that beats in my heart and guides my steps.
The prayer reads, "New every morning is your love, great God of light, and all day long you are working for good in the world. Stir up in us desire to serve you, to live peacefully with our neighbors, and to devote each day to your Son, our Saviour, Jesus Christ, the Lord."
(United Methodist Hymnal, Order for Morning Praise and Prayer, page 877)
In my life, I have been blessed with daily experiences that have opened my life to the beauty of God's presence, always working for good in the world. Gazing upon such goodness repeatedly has stirred up in me desires to serve, live peacefully, and devote my days to the ways of Jesus.
It brings me great delight to see God's goodness at work in the people of the church. Serving as a pastor has been a sacred privilege of sharing life together in ways that have cultivated gratitude, grace, and grit. As the Apostle Paul wrote, "I give thanks to my God always for you because of the grace of God that has been given you in Christ Jesus." (1 Corinthians 1:4)
I am thankful to begin ministry with the people of Cross Winds UMC in 2021.
Previously, I served pastorally as an ordained elder of the United Methodist Church in Delano, Prospect Park, and Woodbury MN. I also have been blessed to serve on other church staffs as a Youth Director and Christian Education Director.
I am married to Chad, who serves as a pastor at Delano UMC. Together with our son, we enjoy spending time as a family playing games, biking, birdwatching, enjoying good meals, reading books, visiting with friends, and playing with our dog.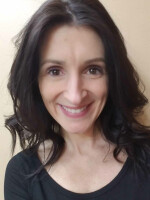 Ambers' favorite Bible verse is Psalm 118:24: "This is the day the Lord has made. Let us rejoice and be glad in it!" She says, "It always brings a smile to my face!"
Amber began her ministry at Cross Winds in April of 2016 when she joined our nursery staff. With her husband Andy, daughter Lilyana, and son Jude, Amber has a deep faith and a lifelong love of children and sharing God's love with our littlest ones.
Amber joined the Cross Winds Children's Ministry roll in 2019 as a further calling to know kids, families and volunteers who are part of our growing church. She is working to serve within the church and our community, glorifying God in all she does.
Contact the church office to connect with Amber or on Sunday mornings to introduce yourself, share your ideas and get to know her.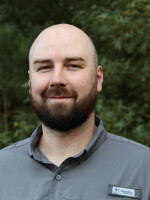 Josh Greer
Director of Youth Ministry at Cross Winds
My name is Josh Greer and I serve as the Director of Youth Ministry at Crosswinds
UMC. I have a B.A. in Youth and Family Ministry from MidAmerica Nazarene University, an M.A.
in Theological Studies from Nazarene Theological Seminary, and a forthcoming M.A. in New
Testament from Freed-Hardeman University.

In 2017, my wife (Jenny) and I moved from our hometown of Roanoke, VA and began our life
together in Brainerd, MN where I served as Director of Discipleship and Mission at Park UMC.
We are excited to be returning to Minnesota after spending the last 2 years in North Carolina.

Young people have always had a special place in my heart, and I enjoy building relationships
and helping them navigate their faith journey. I am passionate about discipleship, having deep
theological conversations, and bridging the gap between the spaces of the local church and the
religious fields of academia.

In my free time, I enjoy spending time with my wife, Jenny, and our two rescue dogs, Rawley
and Charlotte. I also enjoy sports (especially baseball and basketball), traveling, reading,
cheering on my favorite teams, and fishing from my kayak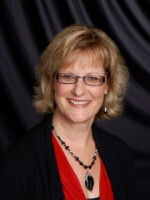 Lori Lahtinen
Director of Worship & Music
Hi, my name is Lori Lahtinen and I am the Director of Worship and Music. I am a charter member of Cross Winds and have been the music director since 1999. I have a Bachelor of Science degree in Elementary Education and a Music Minor from the University of Minnesota.
I retired from teaching after 37 years and have been enjoying spending more of my time making worship music. traveling, and enjoying my family including three wonderful grandchildren. I feel it is an honor and gift to work at the church I love, with the people I love, serving the God I love. Thank-you, Cross Winds, for the privilege of growing in discipleship in God's Kingdom with you.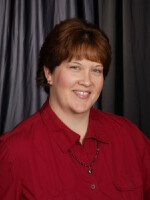 Michelle Schober
Director of Administration
Michelle Schober and I am the Director of Administration. I have been a member of Cross Winds since March 2004 and a staff member since May 2007. I grew up in Dallas City, IL. I went to MacMurray College in Jacksonville, IL where I received my degree in Computer Science and Business.
I currently live in Maple Grove with my husband Steve and our two children John and Ashley. I enjoy everything I do at Cross Winds, but especially enjoy singing and working behind the scenes to make in-person and online worship a great experience.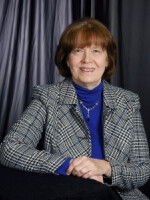 Nancy Betterman
Accompanist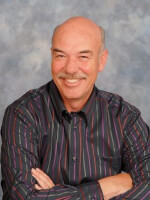 David Hughes
Treasurer
Hello, my name is David Hughes. I have held the position of Treasurer for Cross Winds United Methodist Church since 2002. My wife Nancy and I have been members of Cross Winds since 1993. I have had the pleasure of serving on the Finance Team since we joined the Church and have been a member of both Building Teams.
I hold a BA in Accounting from the University of St. Thomas and work as the Controller of Bowman and Brooke LLP, a law firm based in Minneapolis. In my free time I enjoy spending time with my Family and Friends, Fly fishing, Hunting and Softball.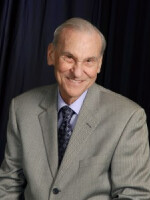 Harold Biederman
Pastor Emeritus
At Pine Crest Assembly Grounds in Colorado in June of 1950 my pastor said, "Harold, I believe that God is calling you to be a minister" This was the beginning of a journey that led from New Mexico to college in Iowa, to a student pastorate in Minnesota. Then on to United Seminary in Dayton, Ohio for three years where I continued as a student pastor.
After graduation in June of 1963, it was back to Minnesota where for the next 37 years, I served churches in the Minnesota Annual Conference. In June 2000, it was time to retire from active ministry. Maple Grove became our retirement home and Cross Winds became our church home. That first year, I was invited to serve as Pastor Emeritus at Cross Winds, a volunteer position I have filled for the past 15 years. I have sought to serve by preaching, teaching, visiting, working in mission and helping where I am needed at Cross Winds and elsewhere.
In August, 1958 Karen and I were married. We have two children, Linda & Mark. Our five grandchildren range in age from 19-28. Family, church, and VIM service are important parts of our life and ministry together. This life trip has been a great adventure with all the ups and downs that have filled our days. Thanks be to God who leads us on this life-long journey! My guide for ministry and life is John Wesley's Rule. "Do all the good you can. By all the means you can. In all the ways you can, in all the places you can. At all the times you can, to all the people you can. As long as ever you can."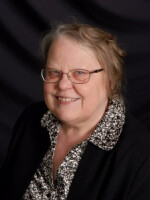 Shirley Duncanson
Pastor Emeritus