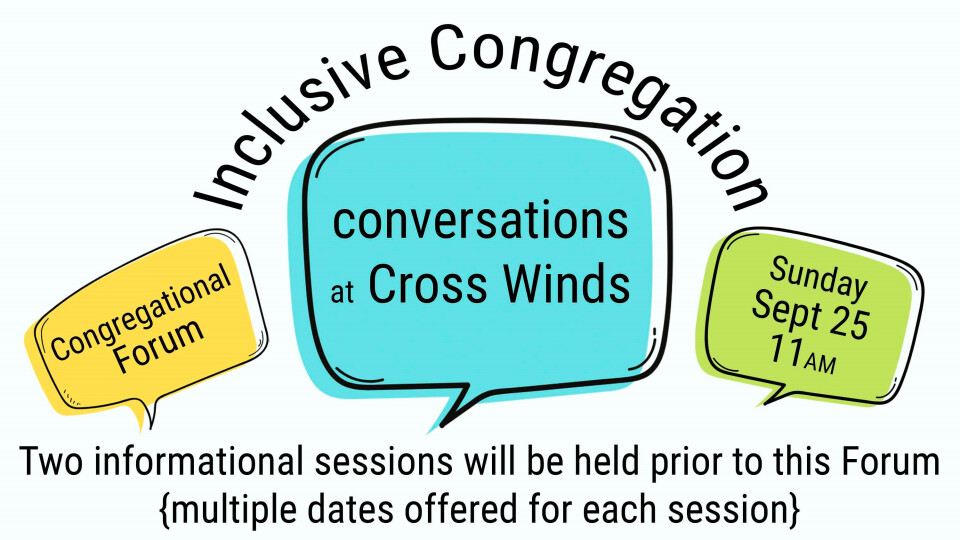 Sunday, September 25, 2022, 11:00 AM - 12:00 PM
The Board invites the Cross Winds community to participate in conversations about our vision and values regarding the calling to become an inclusive church. There are many facets to inclusivity and this September, we'll begin our discussions through a series of gatherings facilitated by Pastor Stina and the Cross Winds Board to look at the Bible, sexuality, and the United Methodist Church.
Gather with the Cross Winds community after worship to discuss the vision and values of Cross Winds regarding the calling to become an inclusive church. The board will present information for conversation and reflection, especially with respect towards the work of the MN Annual Conference (MAC) statements regarding LGBTQIA+ inclusion. At this meeting, the congregation will have an opportunity to speak and reflect on how these values reflect the nature of Cross Winds as a member of the MN Annual Conference of the United Methodist Church. Contact Pastor Stina, Mark Biederman, or any Cross Winds Board member for additional information.
Informational Sessions Offered
Session One - What does the United Methodist church believe?
This session will discuss the history, teachings, and ongoing dialogue in the United Methodist church regarding human sexuality. Facilitated by Pastor Stina.
Identical Session offered at different times, both in-person or zoom
In Person at Cross Winds:
Wednesday, September 14 (7-8pm)
Sunday, September 18 (9am-9:45am)
Zoom Option
Thursday, September 15 (7-8pm)
(RSVP to Pastor Stina for zoom information)
Session Two - What are the values of the Minnesota Annual Conference?
This session will explore the dialogue among the Minnesota Annual Conference (MAC) of the UMC regarding human sexuality. We will especially discuss the mission, vision, and values of the MAC, as adopted by the Annual Conference. We will also review the Extended Cabinet's Statement on LGBTQIA+ Inclusion. Information is available online: MAC vision & Inclusion Statement. Facilitated by Pastor Stina
Identical Session offered at different times, both in-person or zoom
In Person at Cross Winds
Wednesday, September 21 (7-8pm)
Sunday, September 25 (9am-9:45am)
Zoom Option
Thursday, September 22 (7-8pm)
(RSVP to Pastor Stina for zoom information)