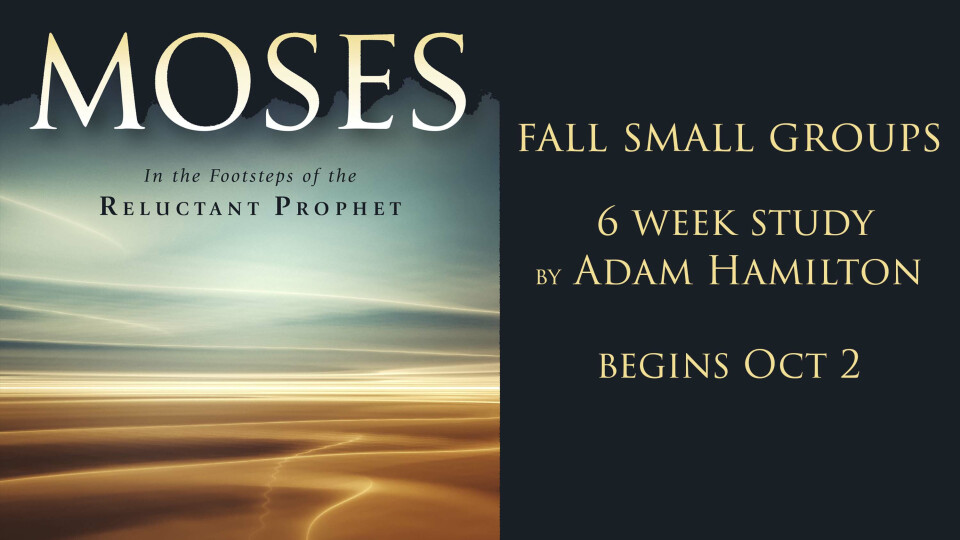 Every Sunday, from 10/02/2022 to 11/06/2022, 9:00 AM - 10:00 AM
Moses - 6 Week Small Groups
Begins Week of October 2nd
It doesn't get much more dramatic: rescued baby, life in the courts of Pharaoh, parting the Red Sea, leading his people out of Egypt…Moses' life was one challenge after the next, but although he resisted God's calling, by the end of his life he successfully fulfilled the role he was given. Join award-winning author Adam Hamilton as he travels from Egypt to Mt. Sinai, the Nile, the Red Sea, and the wilderness exploring the sites of Moses' life. As Hamilton shares historical information, archaeological data, and biblical text, you'll gain a better understanding of Moses' significance in your life today, and you'll discover how you, too, can turn your own reluctance into boldness.
Small Groups Meeting Times
• Sunday mornings (9am-10am) starting Oct 2nd - led by Christy Sturlaugson
• Wednesdays (1pm-2pm) starting Oct 5th - Pastor Shirley
• Wednesdays (7-8pm) starting Oct 5th— led by Pastor Stina
• Looking for another option—contact Pas-tor Stina to start a new small group!
Other Ways to Participate
• Read Exodus, or portions of this fall.
• Purchase the book Moses by Adam Hamilton (paperback/e-books available on Amazon, Cokesbury, etc.). Copies are available at the church for purchase as well.
• Watch the Adam Hamilton teaching vide-os through Amplify Media. Register for a free personal user account under the Cross Winds subscription for Amplify Media. This online library of videos and spiritual studies (think of it as a "Methodist Netflix") includes the six-week video series for the Adam Hamilton study on Moses and MUCH MORE! Watch one video per week and spend time journaling or praying in response to what you hear.
For more information about small groups,
purchasing books, or Amplify media,
contact Pastor Stina